Hey there folks,
We know you're eager to have a go at Solasta's Spring Update, so we're just going to come clean with the date. You'll be able to enjoy everything we've been talking about the last few weeks on Thursday March 25th - including the brand new Dungeon Maker. Alright, now for more information about this upcoming patch...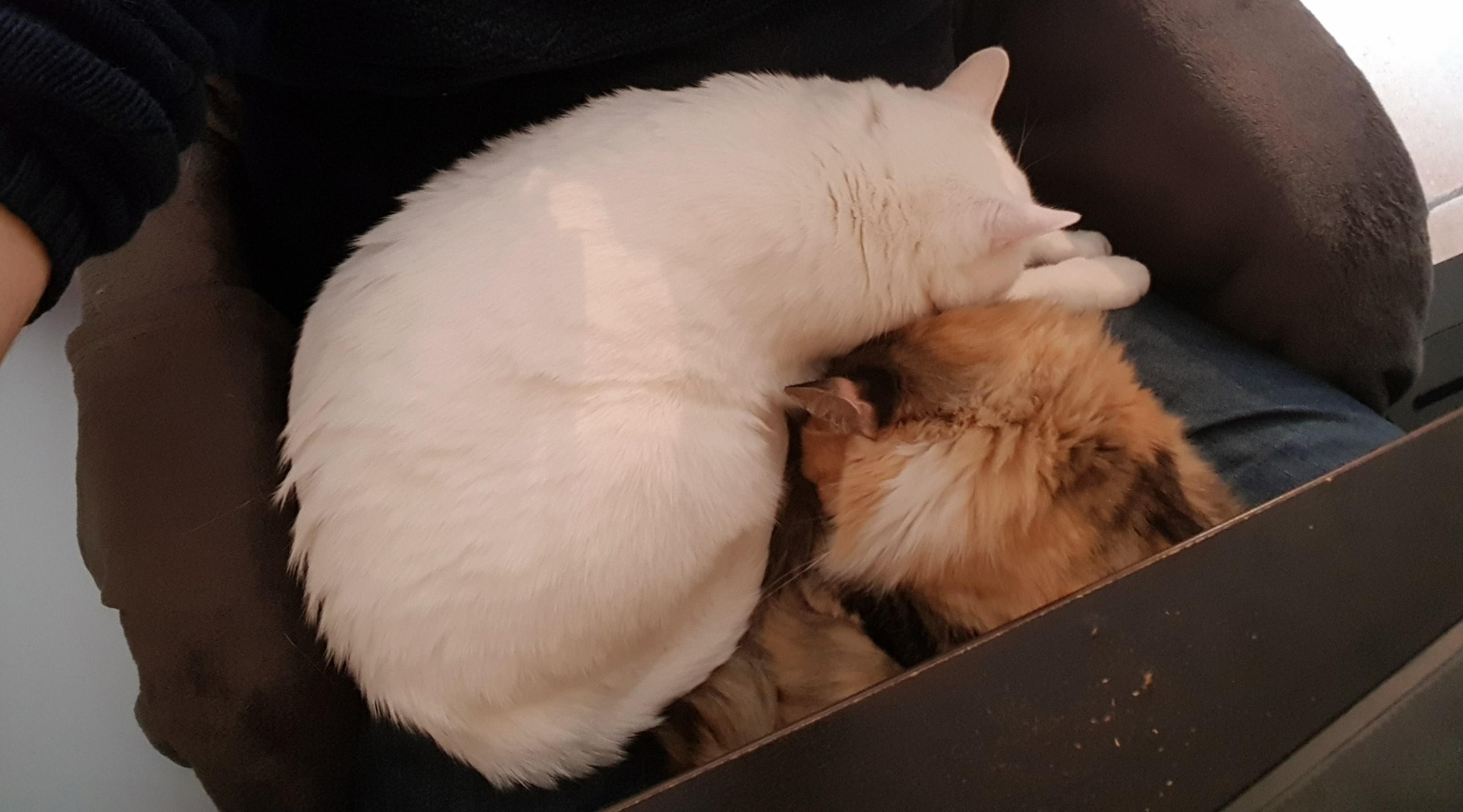 Home office perk: Warming your lap with cats. Provides heating and relaxation!
---
Spring Update Community Stream
As per usual, we'll be hosting a stream on Twitch to accompany the update. Join us on the day before the patch, Wednesday March 24th, at 9 am PDT / 12 pm EDT / 5 pm CET to discover the new content at our side and ask us any question you can think of! The participants this time will be Mathieu, Creative Director, Xavier, Gameplay Director, Pierre, Marketing Director and myself Emile, Community Lead. Make sure to follow us on Twitch so that you don't miss the stream!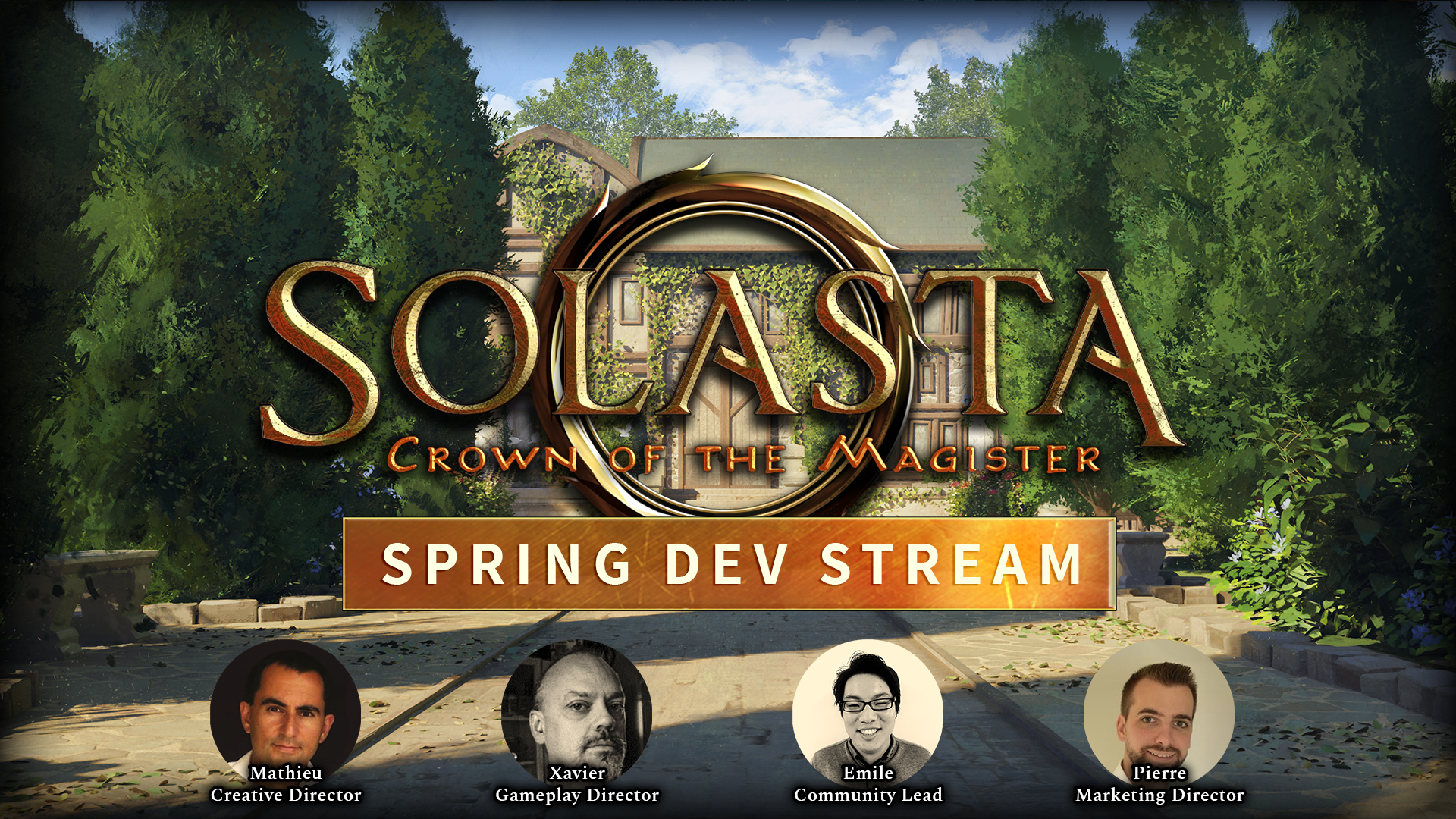 We'll mostly be playing around with the Dungeon Maker and show a few sidequests, then we'll be taking requests!
---
Reminder: Save Files Compatibility!
As stated in the previous update, we want to remind everyone that save files will become incompatible with the Spring Update, so you'll have to start fresh! For those who want to finish their current run, we will put the previous version of the game (January Update) on a separate Steam branch so that you can keep playing if you want to.
---
Background Quests
In this Spring Update, we'll be solidifying and enlarging the foundations of the house rather than building a new floor. For those who aren't used to having bards or pompous wizards in their party, that meant we won't be adding new quests to the main campaign in this update, to avoid spoiling too much of the story before the release of the full game.
... Well, truth be told we are adding a bit more to the main campaign: you'll now be able to come back from the Wizard's Tower and talk to the Council at Caer Cyflen, after which if you try to continue the main storyline you'll meet the End of Early Access message. But this time, it won't send you to the main menu - you'll be free to explore the world and take on side quests! Indeed, you will no longer be limited to the main story quests, with the addition of 8 backgrounds quests which will give you a little more insight about the past of your party members, depending on the backgrounds you picked during Character Creation. Those quests are fully fleshed out with dialogs and new locations, and will be available at different times.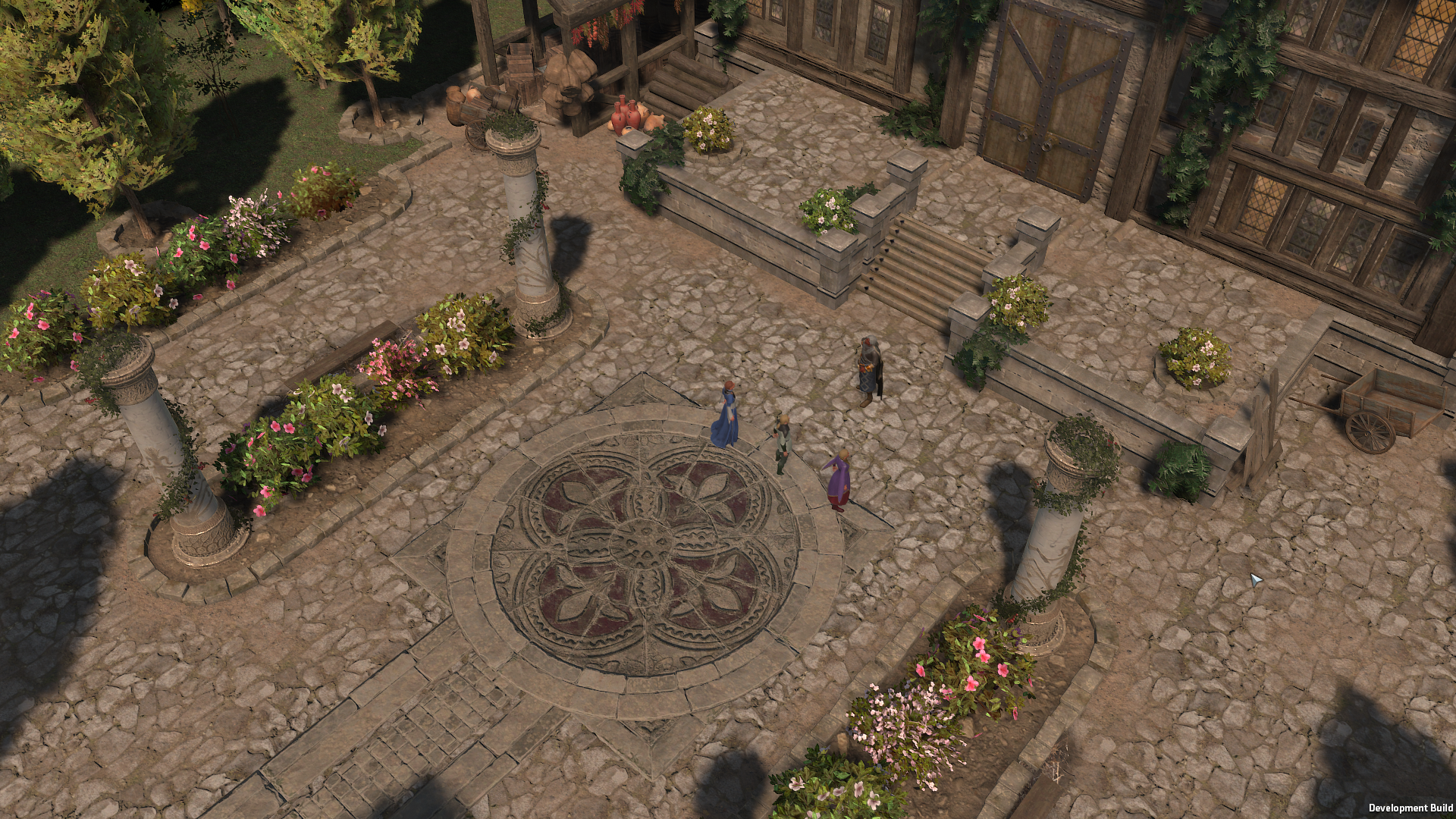 The Aristocrat Quest will drag you into a little conflict about inheritance, but not everyone will play fair...
Acolyte: Unlocks after talking to the council once back from the Wizard's Tower, provided the party picked up Emtan's Journal when visiting the ruined Monastery
Aristocrat: Unlocks after talking to the council once back from the Wizard's Tower
Academic: Unlocks after talking to the council once back from Tower of Magic
Lawkeeper: Unlocks after talking to the council once back from the Wizard's Tower
Lowlife: Unlocks after talking to the council once back from Caer Lem
Philosopher: Unlocks after talking to the council once back from the Wizard's Tower
Sellsword: Unlocks after talking to the council once back from the Wizard's Tower
Spy: Unlocks after talking to the council once back from the Wizard's Tower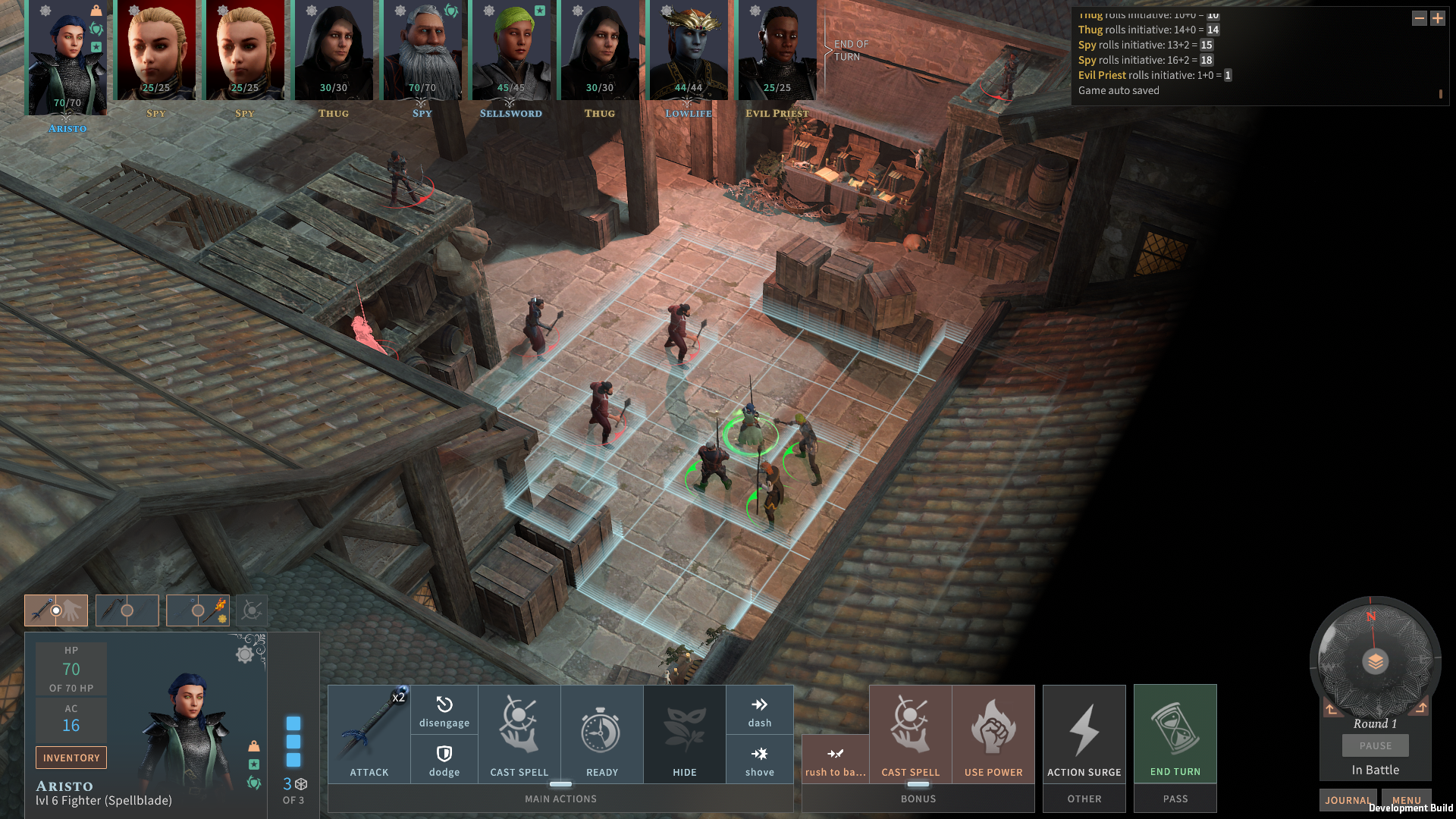 The Lowlife Quest will make use of your former connections to find something that was stolen, though you might run into a bit of trouble too...
Note that the background quests are not equal in difficulty (some unlock much earlier than others) - and may be challenging if tackled immediately when unlocked! We still need to polish the difficulty there, so we're looking forward to your feedback on these newly added background quests. Also, for those who may not remember the Wizard's Tower is the location that previously marked the end of the Early Access.
---
Adventuring Board
The Background Quests isn't the only thing that will make you squeeze more hours out of Solasta (well, aside from the Dungeon Maker and the custom dungeons people will be making). We now have an Adventuring Board where you can take a break from saving the world and get to help the local populace! These small quests will encourage you to go back to previously visited locations and will feature new encounters. Now don't worry - while these quests will help you get some more experience and items, you can absolutely focus on the main campaign and forget about them if that's not your thing.

I get to slay more monsters AND I get paid for it? I love this job.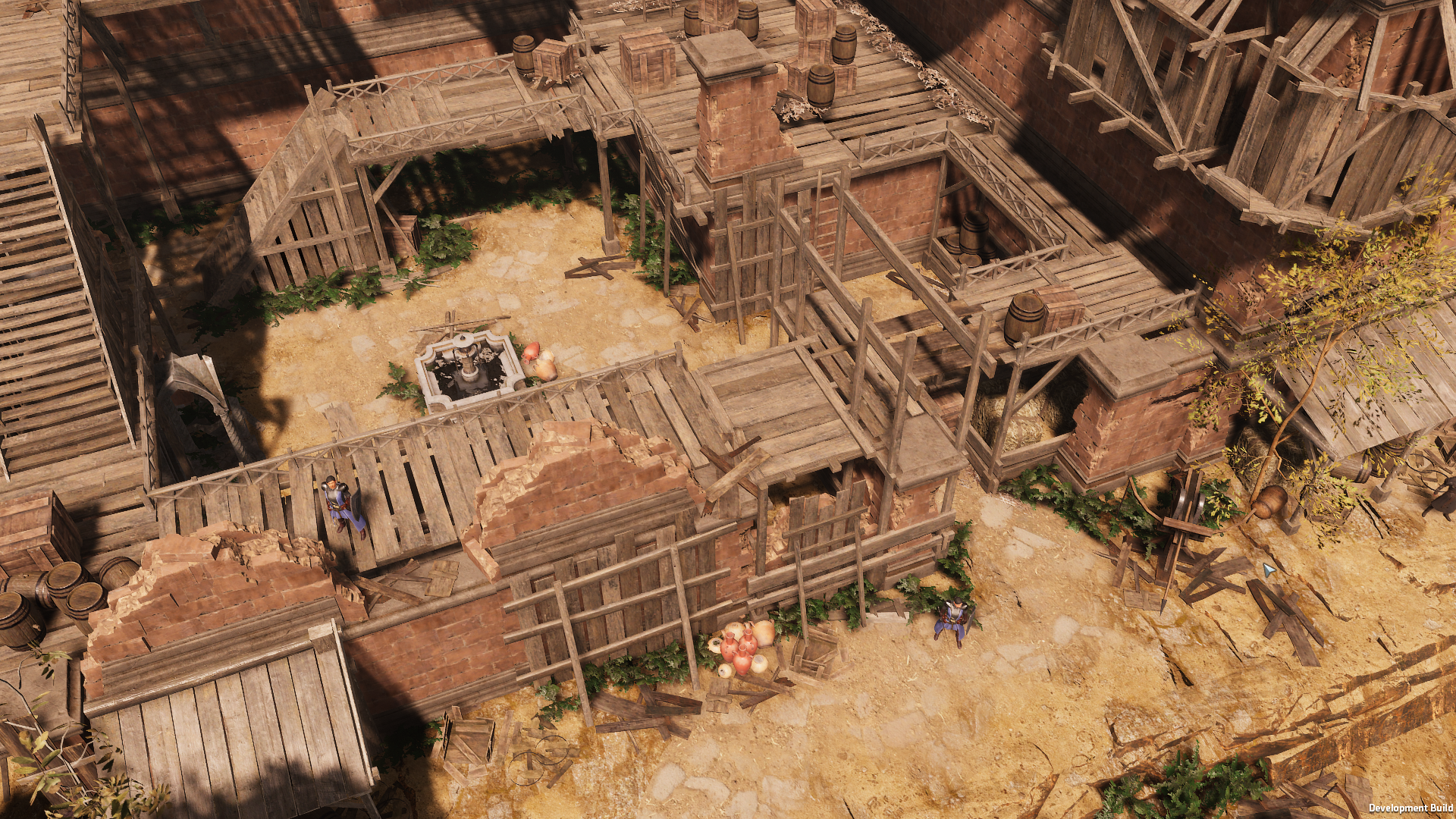 Caer Lem after the outpost has been re-established and (tentatively) repared
---
Let's Talk Difficulty
Are you scared that all of these changes we previously talked about will be making the game too easy? My oh my, don't be. First of all, remember that we're adding difficulty settings in this update - meaning that if you find the game too simple, don't hesitate to crank up a few notches.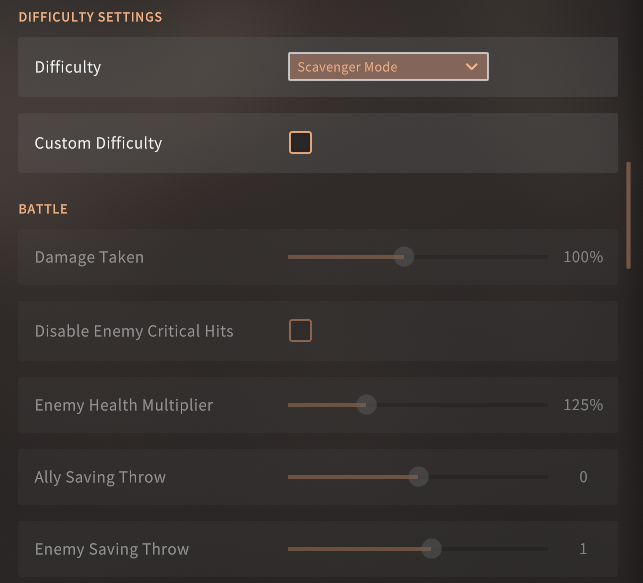 You can find Difficulty Settings in the "Game" Tab when changing the settings
Second, keep in mind we still need to do a final balance pass before the full release of the game - so some encounters that you consider too easy or too hard may very well be different when 1.0 hits the store, nothing is set in stone. While some fights may be easy on purpose (for story reasons or simply because we know the next long rest is still quite far away), some simply haven't been revisited yet by the design team.
Third... Some bosses will now have access to legendary actions. For those who may not be familiar with the tabletop ruleset, some powerful creatures have access to legendary actions which allow them to act outside of their turn - usually right after a party member acts. In the Early Access, the two bosses with legendary actions are Aksha and Razvan - you will need to tackle these fights with care or you'll regret it!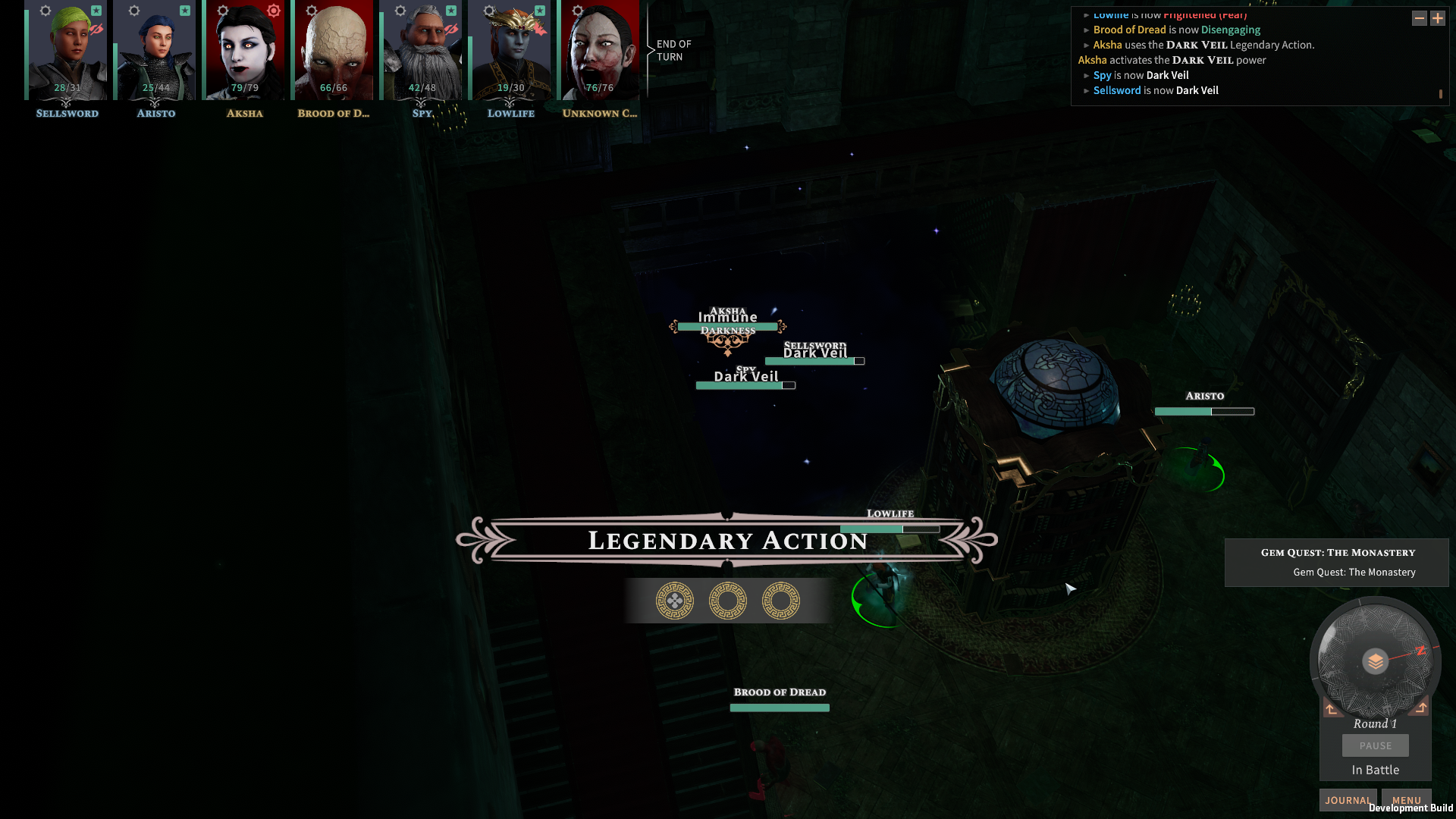 Aksha using a Legendary Action to cast Dark Veil outside her own turn
Remember that you can change the different difficulty sliders (not just the preset) at any time, even during combat. If an encounter is particularly tough, don't hesitate to tune down a few difficulty options and revert them to normal after the fight is over. Note: Currently all the settings, including difficulty ones as you can change them at any time, are saved game-wide. This means if you set your game difficulty to "Scavenger" and load a save, you will still be in "Scavenger" difficulty regardless of what the difficulty setting was when you made that save.


You can change a whole lot of things, including attack modifiers if you feel like it's too hard to hit your foes
---
Preserve Random Seed - Changing the Timeline
In this update, we have decided to turn "Preserve Random Seed" off by default when launching Solasta for the first time (it used to be on by default). Too many players were unaware of this being an option and were struggling in some encounters where they had a really rough start, making them think the RNG gods were dancing on their grave by forcing them to roll poorly.
For some who may not understand what "Preserve Random Seed" did, think of it like time travel. When activated, you stay in the same timeline: If you look through the window and see a bird landing on a branch, then go back in time and look through the window again, you'll see the same bird landing on that same branch at the same moment. However when deactivated, you go into a different timeline every time you load - whenever you'll look through the window, the bird may not land on the same branch, it may be a different bird, or there might be no bird whatsoever. To go back to Solasta: with "Preserve Random Seed" on, if you roll 5 on your attack roll and reload, you'll roll 5 again on that same attack every time (the timeline remains the same). With "Preserve Random Seed" off, you may roll a 12 after reloading, or 18, or 2, or even 5 again.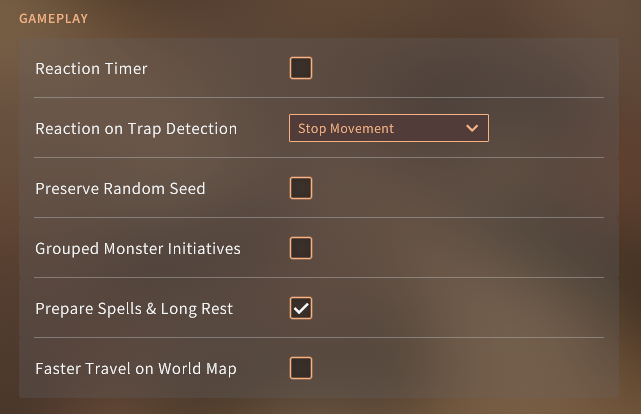 This is where you can find Preserve Random Seed in the option menu
This means before the patch, some unlucky players ended up with terrible rolls on their first round and had one character die straight away, making them reload and... see the same things happening again. Now with the option off by default, this will no longer be the case. You might wonder, why was it on by default in the first place? Well, almost all tacticals - such as XCOM, or Final Fantasy Tactics - preserve random seed. There are multiple of reasons why. For instance, it encourages players to not reload every time they have a bad roll (since the player knows they can't get out of it), saving time in the long run and making them play with the consequences of their action. It also encourages the player to change their approach instead of brute forcing the save/reload option for better rolls - if a frontal confrontation doesn't work out, maybe it's time to use the dodge action on that frontline fighter and not just keep pressing that attack button, or cast Shield of Faith for more AC instead of Guiding Bolt for more damage.
That being said, we also understand that most RPGs don't have the issues it brings up - and Solasta is a Tactical RPG, not just a tactical, which is why we've decided to turn that option off by default. We invite everyone to give your feedback on that decision, as our hearts still waver between the two options for the full release - both having strong arguments for and against. Note that "Preserve Random Seed" will always be available in the game settings, we're just talking about the default setting of that option.
---
Bug Fixes for Everyone!
As usual when we release a large patch, it will be full of bug fixes! Things like Rangers and Paladins not being able to use scrolls, fear and paralysis not allowing you to roll a saving throw at the end of each turn or the game sending the cleric instead of the rogue to disarm traps should now hopefully be a thing of the past. Clear the way old bugs, and make way for new bugs that the Spring Update will bring - hopefully smaller and less annoying ones though.
---
Achievements Incoming (WIP)
Some of you may have noticed a lone hidden achievement popping up a few weeks ago on Solasta. That was us testing around to make sure the system was working properly (unfortunately, Steam achievements can only be tested live). Now, you can probably imagine what's coming next!


We're still missing the icons for now, but don't worry everything will be ready by the time we release the full game!
Achievements, that's what! Yes that was quite obvious, I know. The entire list of achievements will be coming to Steam and GOG in the Spring Update, although they are still being worked on - the icons and localization are still missing for now, though they are still 100% functional (meaning you can unlock them normally). Note that not all achievements can be... well... achieved, due to the fact that some require you to complete quests that are not available in the Early Access version of Solasta, so you'll have to wait until the full launch to get these ones. Regardless, have fun hunting them down!
---
Spring Update Discount & Price Increase
Solasta will be discounted when the Spring Update hits the store on March 25th until March 31st, after which the price of the game will increase from $35 to $40 in anticipation of the 1.0 release. This is due to the fact that Steam prevents games from discounting within 30 days of a price increase, so we unfortunately cannot increase the price when 1.0 gets released while also having a launch discount. So if you want to jump in Solasta at Early Access price, make sure you don't miss the Spring Update sales!
---
Alright folks, this is the end for today! See you on March 25th - or 24th if you're joining our Dev Stream. Thank you for reading, and don't hesitate to drop by our Forums or our Discord Server.
Read our previous articles here:
Article by Tactical Myzzrym