Hello everyone!
We hope you're out there having fun enjoying the Sorcerer Update. We're doing this little update to inform you all that we'll be hosting a small Dev Stream on Tuesday 27th starting at 9 am PDT / 11 am EDT / 6 pm CEST for about 2 hours, where we'll discuss the game, the update and also talk a bit about the future (a bright one, worry not). We're also taking the opportunity to give our Kickstarter Backers an update on everything that has to do with their rewards - especially their physical ones!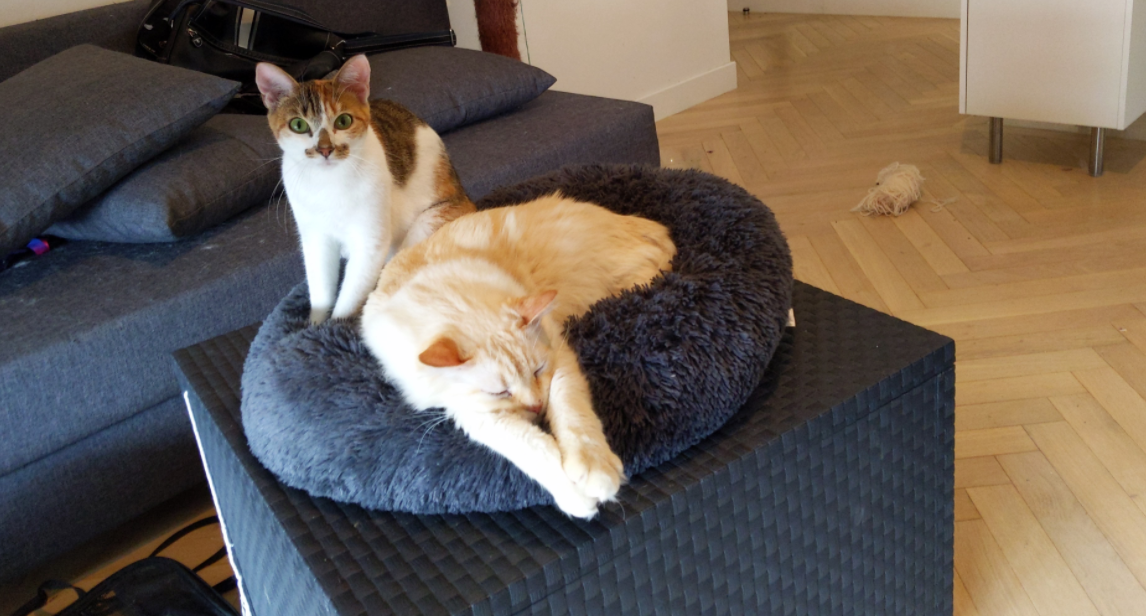 Also, cats. Always cats. The sofa has been relinquished to our feline overlords.
---
Solasta Campaign Sourcebook - almost done!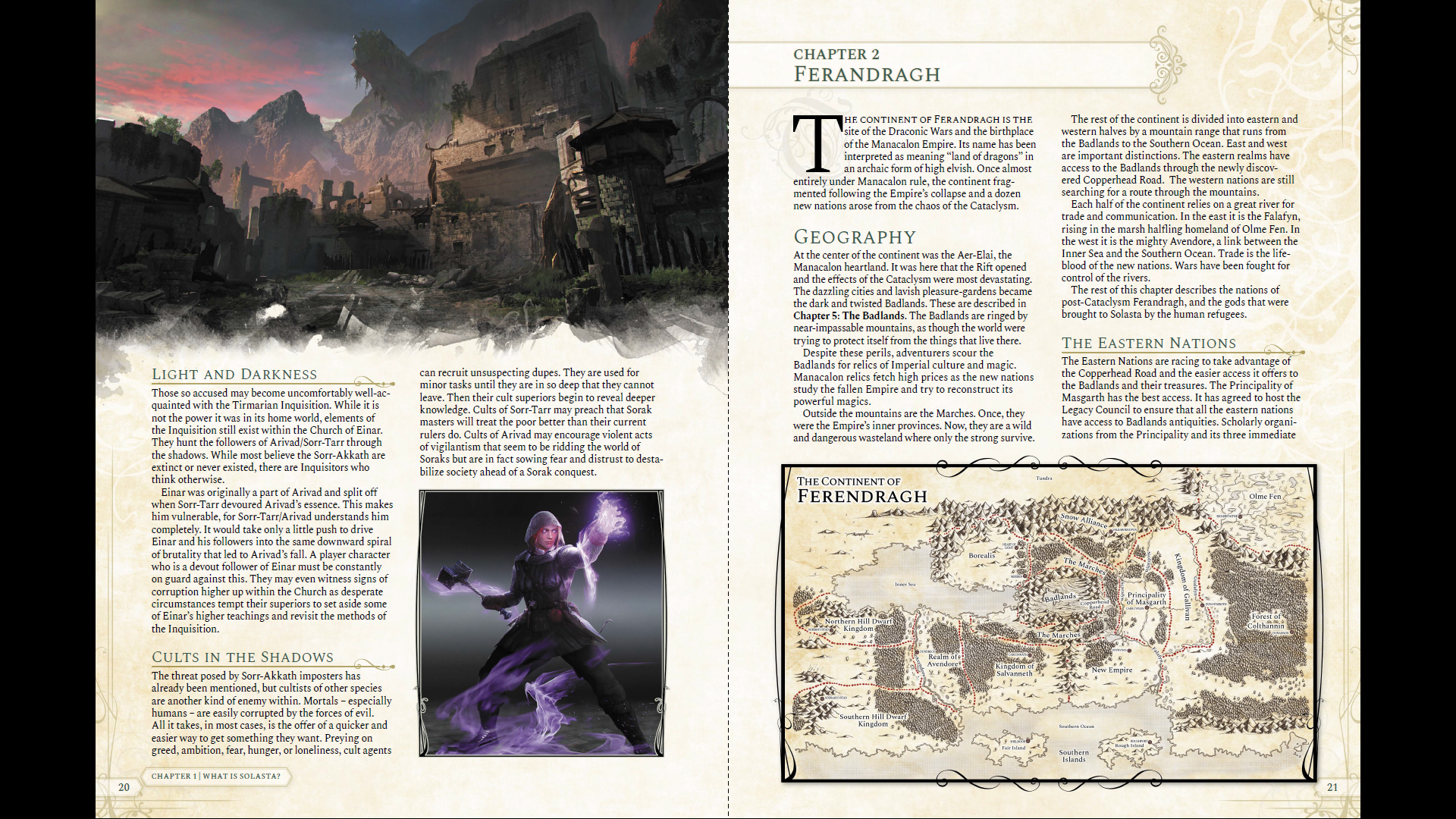 Digital sample of the Solasta Campaign Sourcebook
The digital version of the Solasta Campaign Sourcebook is almost done! In fact, you'll probably receive a first digital version within the next two weeks - although we haven't done proofreading yet, so there are bound to be small mistakes here and there (we will of course send you a final version once everything is complete as well).
And before we go any further, we know a lot of people have been asking to buy copies of our Sourcebook but we unfortunately can't sell them outside our Kickstarter Campaign. We'd love to, but there are legal implications in doing so meaning it's not going be possible for now. Sorry folks!
Anyway, what's left to do for the Sourcebook?
Complete the Deluxe Edition's Art Section. As Backers may remember, the physical version of the Sourcebook has an extra section at the end of the book with various illustrations and concept art of Solasta.
Proofreading. In order to make sure there are as few mistakes as possible in the text, we'll have a professional proofreader go over the text.
Printing. Once the Deluxe Edition Sourcebook is 100% ready to go, our printing partner will start to get the printing presses rolling!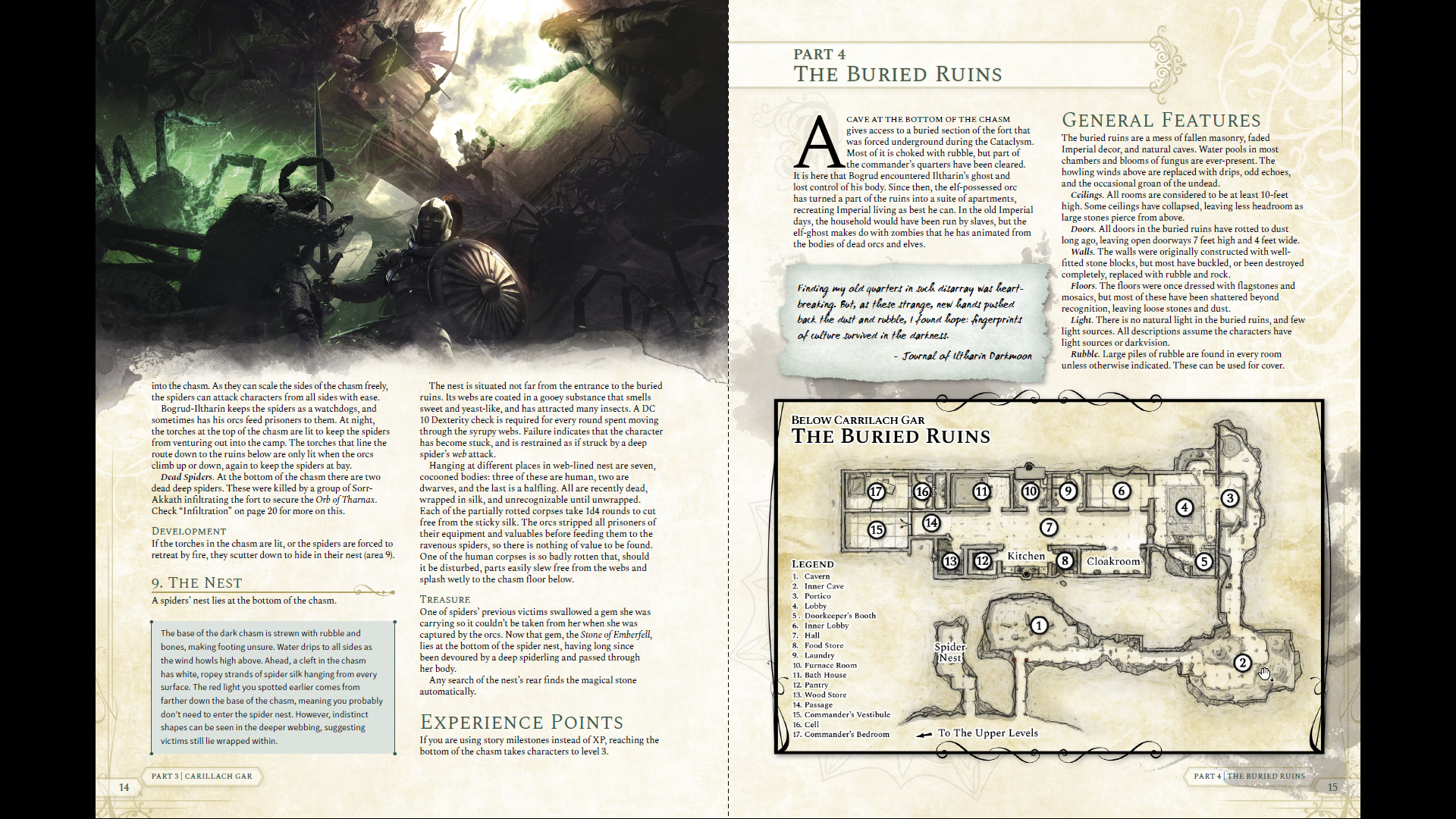 Digital sample of the Ruins of Carillach Gar adventure included in the Adventure Box
---
Adventure Box, Vinyl Disks & Shipping Date
So, if you're like me most of you have one question in mind: When are we going to receive the physical goods?
After discussing with our partner handling the operations related to our Kickstarter goodies, it turns out that due to the current situation both manufacturing and transport take much longer than what it was in 2019. We're currently looking at Early 2022 to have the Adventure Box and the Deluxe Sourcebook delivered at your doorstep - which is quite a bit more time than we would have wanted! We went from 3 months after 1.0 launch to 6-7 months now, and for that we apologize.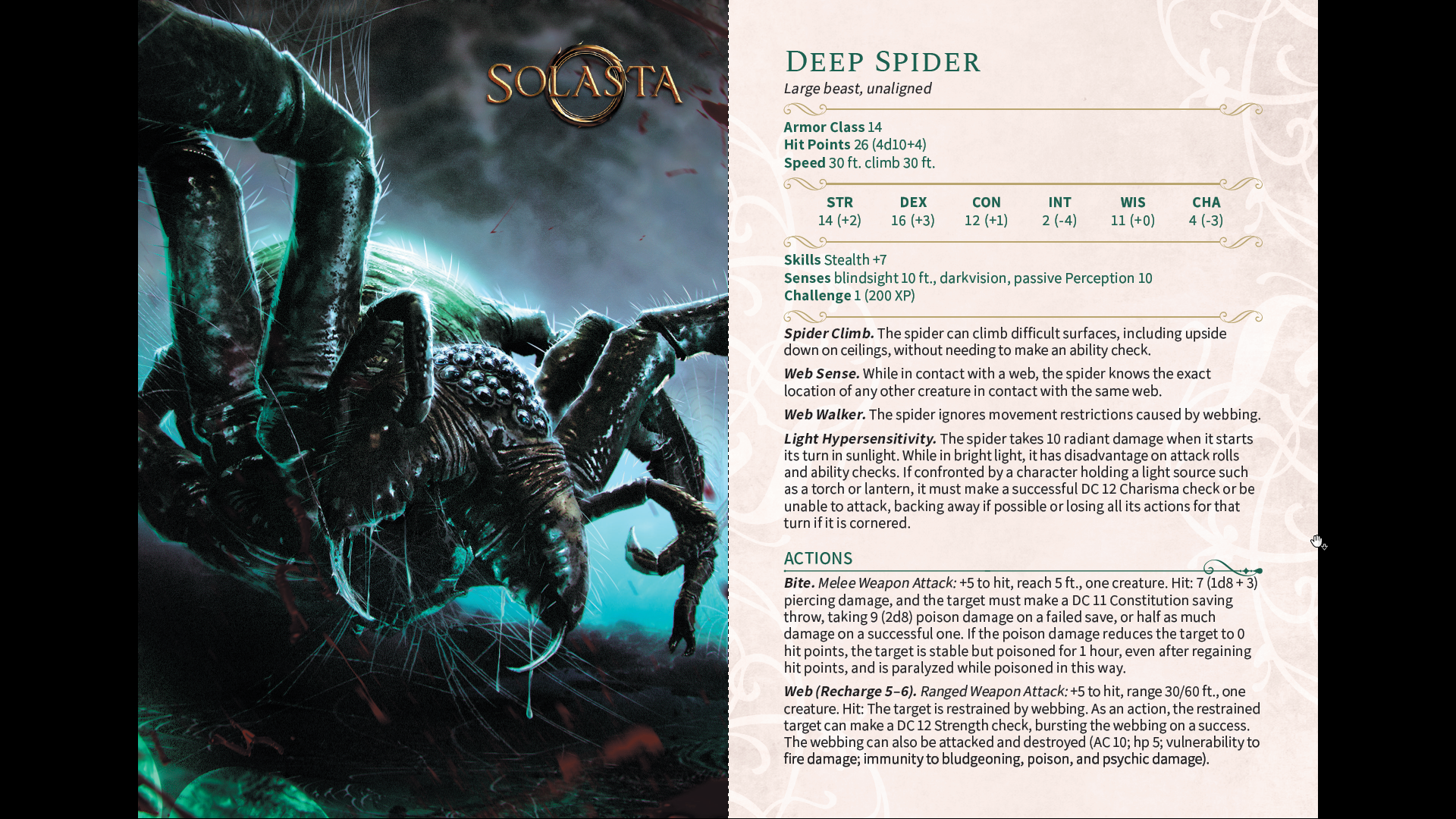 Monster Card - Deep Spider, included in the Adventure Box
So, what are the reasons behind that?
First, as previously stated, compared to 2019 the delays have increased tremendously in the boardgame industry. Unsurprisingly since a lot of people are stuck at home board games are soaring in popularity, so factories around the world are seeing an increase in demand - meaning it takes more time to get our Adventure Box to be manufactured.
Second, international transport which mainly relies on boats is also getting slowed by the situation. A COVID outbreak in one port means boats may end up stranded for several weeks, creating more delays.
Third, although we did our best to prepare the Adventure Box and Sourcebook as much as we could before release, our main priority has always been Solasta. There were many times were we had to switch focus from the physical goodies to fully direct our attention to the game, pushing back tasks required to complete said goodies. That said, the Adventure Box's design is complete and is now in the hands of the manufacturer!
Note, the exception to the rule are the Vinyl Disks that are handled separately by our Audio partner G4F, which you can still order on their website - as far as we're informed, those should be shipped in the next two months.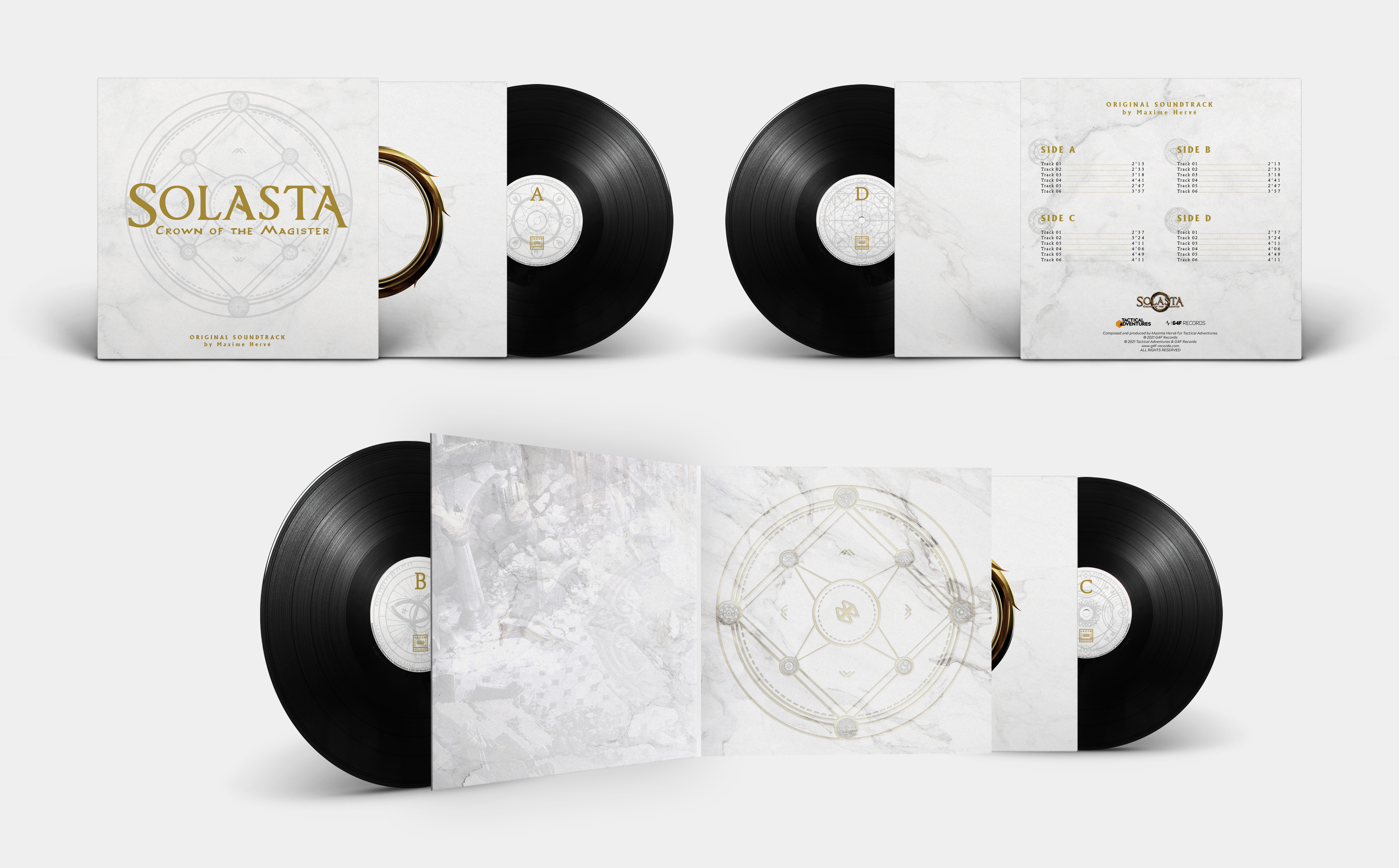 Solasta: Crown of the Magister Original Soundtrack Vinyl Disks
---
Digital Rewards
Physical Rewards are not the only Kickstarter Rewards that are yet to be sent! We still have:
Solasta Digital World Map: We actually have added a new one on top of the existing one, and both are ready to be sent (we'll bundle that together with the Sourcebook PDF v0.9). The original world map focused on the locations found in Solasta: Crown of the Magister, and the additional world map actually includes the surrounding kingdoms that are yet to be shown in the main game!
Solasta Tabletop Sourcebook (PDF). As stated above, the v0.9 (without proofreading) will be sent within the next two weeks!
Dev Documents. This one is a bit trickier as we have to make sure we aren't sharing sensitive information (for instance, things that our partners may have shared with us), but we're hoping to also bundle that with the rest of the digital rewards!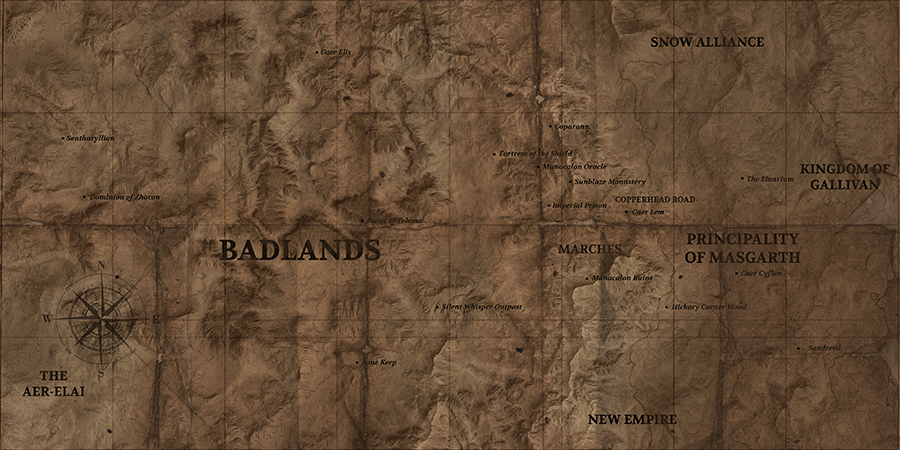 World Map of Solasta: Crown of the Magister (available both in .PSD & .PNG format)
---
Alright folks, this is the end for today! See you on July 27th for the Dev Stream, and don't hesitate to prepare a few questions for us! Thank you for reading, and don't hesitate to drop by our Forums or our Discord Server.
Article by Tactical Myzzrym
---
Typos happen. More so on the phone.