Hello there folks!
Are you having issues with loading screens? As in you sat there for more than 10 minutes, had time to get a coffee, thought about your life and mused about the meaning the universe? If that's the case, we potentially have a solution for you. Read on!
Solution #1: Wait a bit more
This may sound dumb, but Solasta being in Early Access and all, it's not very well optimized yet! If you only waited for 2-3 minutes, it's possible that your computer is busy processing other things, like trying to load a website on a navigator your forgot to close or downloading another game on EGS, Origins, Uplay, GoG... (good lord that list is getting longer every year).
That being said after waiting 5+ minutes or getting an error message you can consider that long loading times aren't the problem anymore - you're stuck!
Solution #2: Verify your Game Files Integrity on Steam
Sometimes, Steam doesn't download the patch properly but still pretends that the download is finished (Steam with those Nat 20 Deception rolls). Because of that, your game is effectively corrupted and you'll end up running into an infinite loading screen at some point - or even just when launching the game.
Verifying your Game Files Integrity forces Steam to re-check the game folder, and download the missing files when it realizes it made a woopsie.
To verify your Game Files Integrity, simply:

Make sure you quit the game before doing anything
Open your Steam Library
Right click on SOLASTA Crown of the Magister
Click on "Properties..." (at the bottom)
On the top of the Properties window, select "Local Files" (3rd tab)
Click on "Verify Integrity of Game Files..." (4th option)
Done! Now you just have to wait for Steam to verify / download the missing files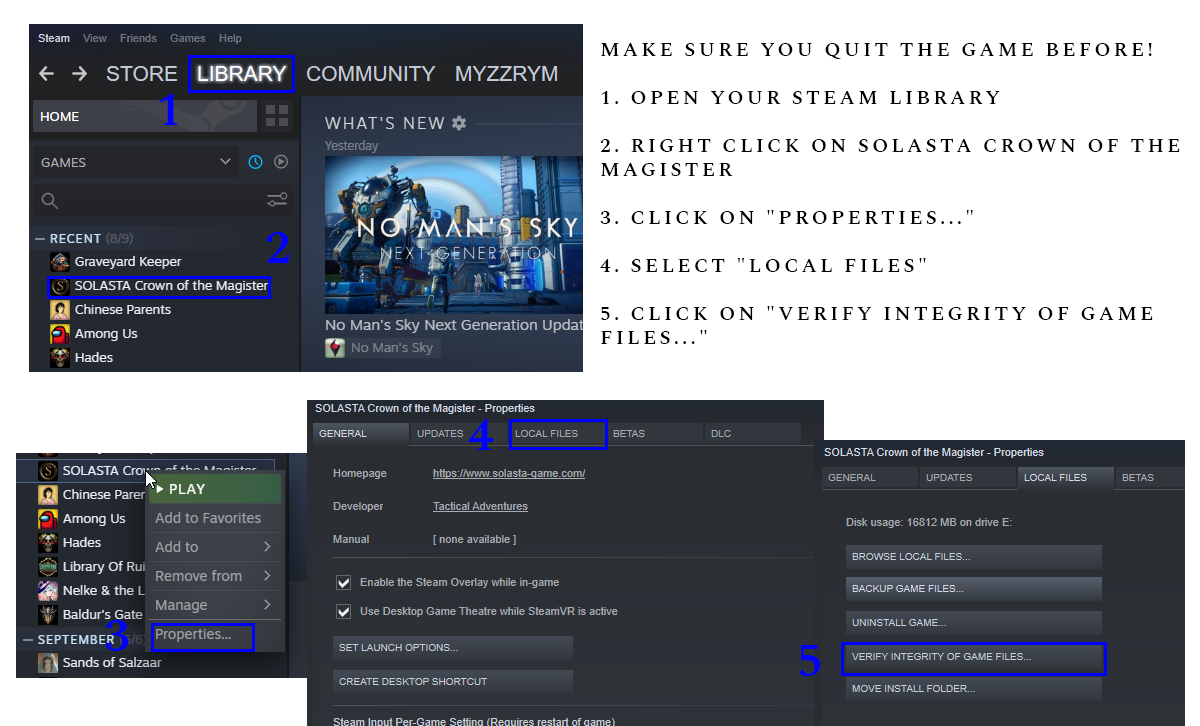 Solution #3: Use another save files (only do that if Verifying Game Files Integrity didn't fix your issue)
Sometimes, you did something during your run that the game didn't like - but the game doesn't crash. Those small error messages (hidden from the player) can range from harmless issues to "errrr chief, you just broke the game". Since the game doesn't crash outright, you can keep on playing - but as DMs like to say "you'll eventually run into the consequences of your actions" (even if it's not your fault in this instance, you couldn't have known). Meaning you'll eventually run into a crash, or an infinite loading screen. If that's the problem, verifying game files won't help.
Often what happens is that you'll save AFTER you already did something to break the game, so loading that particular save won't work (you'll always run into the same infinite loading screen)
The solution is to load an older save - unless you disabled them, the game should auto-save fairly frequently. You can simply try to load the previous save and see if you still run into the same problem. If so, load a save that's even older - rinse and repeat until you finally find a save that's not affected by the infinite loading screen.
At the very worst if nothing else works, you'll have to start again from the beginning :(
---
I'm a roleplaying and worldbuilding enthusiast who appreciates the weird and wonderful.
---
"The parry is wrong." - Drizzt Do'Urden" ― R.A. Salvatore
---
Swords are better than bows, they never run out of ammunition.